As its safe the say the summer has swiftly been and gone, I found myself searching for and then finally purchasing a coat to help me out I did a bit of research around the high street and I thought you would all be interested:
fur coats

ASOS Faux Fox Fur Coat £56
,
BB Dakota Braden Faux Fur Coat $138
,
ASOS Hooded Fur Coat £90,
TOPSHOP Premium Faux Fur Panel Coat £110


parka coats

Plastic Island Caged Canary Park $198,
ASOS Oversized Quilted Lining Parka £75,
Miss Selfridge Borg Hooded Parka £85,
G-Star Super Parka £179,
trench coats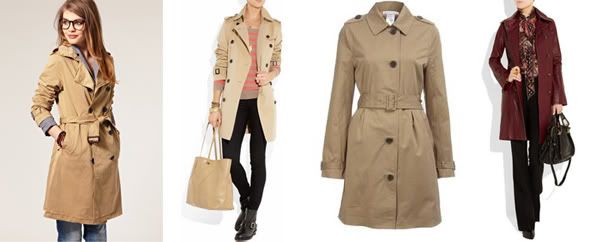 Maison Scotch Belted Military Trench Coat £117,
BURBERRY LONDON £750,
Paul & Joe Beige Trench Coat £96,
Emilio Pucci £3,515.
Sorry I have been away again. However this time I have a reasonable excuse… not only am I back on a role with university lectures back in Nottingham, but unfortunately my house was burgled a couple of weeks ago and my laptop was stolen as well as my Michael Kors watch. After lots of hassle with the insurance companies I received my sexy new laptop yesterday and should be expecting the money to re buy my watch in the next week, so not all bad just a bit of a bump on the road. Adele.