If you have all been wondering where on earth I have been for the past two weeks or so, the precise location is in fact Cassino, Italy. A small town in central Italy an hour between each Rome & Naples. I am here on the ERASMUS programme, a life long learning programme set up to give university students the opportunity to experience different cultures and learn new languages.
Unfortunately Cassino is not known for its university achievements but instead for its world famous "Abbazia"
Monte Cassino
. Myself not being a firm believer of anything religious I am not one to get excited about travelling up a mountain to see a famous monastery, however the landscape and not to mention the history behind Monte Cassino is phenomenal.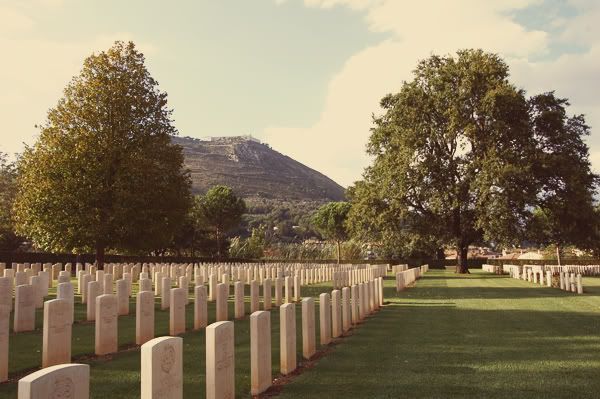 The Abbey was founded in 529 and is situated at 519 meters above sea level, It has suffered years of destruction and has been reconstructed numerous times. In February 1944 the Abbey was flattened by the Americans & British after hearing the Germans were using the Abbey as hiding, unfortunately the Americans were wrong and many civilians were killed after the Germans had advised them to hide in the Abbey as it would be safe and wouldn't be affected by battles. This progressed into a long term battle throughout of the whole of Cassino.
The restoration was carried out from 1948 to 1956, it is said to be as close to the original building as possible. The Cassino War Cemeteries are the largest WWII Cemeteries in Italy. The cemetery contains over 5000 grave markers of soldiers that died in battles against the Germany arm. It is the final resting place of the British, New Zealand, Canadian, Indian, Gurkha, South African, French, Italian, Polish, German and American casualties.