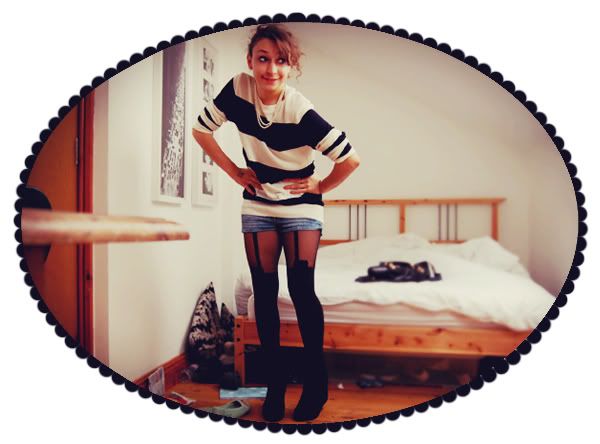 Ignore the most horrendous photo of me in last nights makeup with my hair not done and my room embarrassingly messy!

I convinced myself to buy the Henry Holland Super Suspender tights after my last post, unfortunately as trying them on for the first time I noticed a couple of holes and a ladder down the back :( So I'm going to have to send them back :( Hope they replace them & don't think I wore them and did it my self!
I have had too much work to blog properly right now but I am trying! Those who follow me on twitter will know that I had my last Italian exam yesterday! Its sad really… no more Italian lectures till after my year in Italy! Scary!
After my exam my boyfriend took me for a much needed and well deserved trip into Nottingham for a little bit of shopping and I purchased these beauty bits; I was quite weary about spending £8 on this topshop lipstick as I know makeup isn't there speciality but I want along and invested anyway to my boyfriends horror! However I thought 3 large nail varnishes for £12 in American Apparel was great especially as I got to choose the colours!
Sweater: American Apparel, Necklace: Accessorize, Shorts: Kate Moss for Topshop, Tights: House of Holland, Booties: Jeffrey Campbell